Introducing The World's 1st Herbal Tea Created Specifically For Intermittent Fasting
Simple ● Safe ● Effective
Based on an ancient Taoist formula and backed by our 60-day Peace of Mind Guarantee.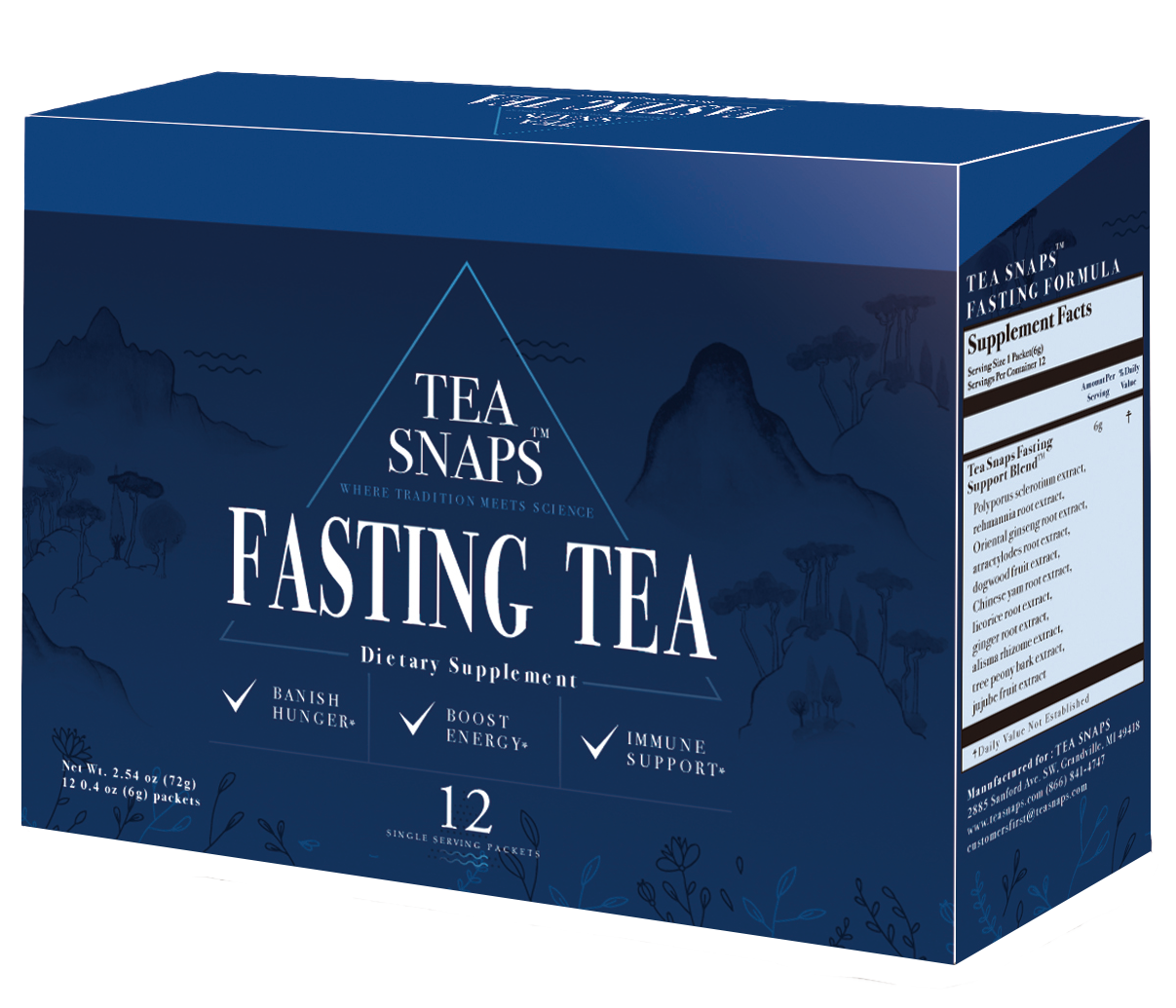 INTERMITTENT FASTING SHOULDN'T BE JUST FOR THE "IN" CROWD
We've rediscovered a Taoist formula of 11 powerful Chinese herbs that curbs your appetite and boosts energy.

We've used a patented granulation technology to turn that formula into an instant tea, that refreshes, invigorates and focus your mind while crushing your hunger pangs, all without stimulants or chemicals of any kind. Introducing Fasting Tea from Immortalitea.
Introducing Fasting Tea from Immortalitea
THIS ANCIENT HERBAL SECRET MAKES FASTING EASY
Lately, everyone's talking about Intermittent fasting and with good reason. It is a powerful way to lose weight, improve insulin sensitivity, reset your metabolism and live a longer more active life.

The fitness gurus all make it sound effortless, leaving you feeling like there something wrong with you. But the truth is everyone who tries fasting struggles with hunger and fatigue at least some of the time.
We discovered a 2,400 year old Taoist herbal formula that both curbs hunger and boosts your energy. We've used modern extraction and a patented essential oils recovery system to turn this complex formula into a covenientand great tasting instant herbal tea.
JUST FOLLOW THESE 3 SIMPLE STEPS
Step 1 - Choose your fasting method
---
The are many types of intermittent fasting, continuous fasting (like the water fast), alternate day fasting (like the 5:2 Plan) or Time Restricted Eating (like the 16:8 Plan or the Warrior Diet). The right one for you depends on your health and weight loss goals, lifestyle and personal preferences. Not sure which one to choose?
No worries! We've created a simple FREE quiz to help you select the plan that's right for you. 
Step 2 -Sign Up For Auto-delivery of Our Fasting Tea
---
Psychologist and fitness expert agree that two keys to successfully implementing any lifestyle change are making it as easy as possible and taking all the excuses away. Our fasting tea makes intermittent fasting easy by stopping your hunger and boosting your energy. Our auto-ship program takes the excuses away. You'll subscribe to the easy monthly deliveries of fasting tea so you'll always have it and won't have to remember to order. You'll also automatically save 20% on your order and receive some great bonuses. (click here to check out the bonuses)
Step 3 – Start Fasting The Easy Way!
---
Finally, follow your intermittent fasting protocol. On your fasting days you'll drink 3 cups of fasting day spread out through the course of the day (at your usual meal times if your completely fasting, between meals if you're on a reduced calorie fast.) The all-natural fasting tea works with your fasting plan to help reduce any feeling of hunger and keep your energy levels high throughout the day (all without any artificial appetite suppressants or stimulants of any kind.) On your non-fasting days, you'll eat as you normally do (some fasting protocols even call for eating literally as much as you want on your non-fasting days.)
IT'S THAT EASY!
Three easy steps and you are on your way to implementing a new way of eating that not only helps you lose weight but is PROVEN to help you live a longer more active life. No wonder one leading longevity researcher called intermittent fasting "Better than medicine!"
SAMPLE DAILY FASTING SCHEDULES WITH OUR FASTING TEA
The 5:2 Fasting Plan (created by: Dr. Michael Mosley)
150 - 200 kCal Low-Carb Meal

150 - 200 kCal Low-Carb Meal

150 - 200 kCal Low-Carb Meal

The 16:8 Plan or Leangains Method (created to Martin Berkhan)


1st & largest meal of the day (typically 1000 - 1500 kCal)

Last meal of the day (typically 500 - 1000 kCal)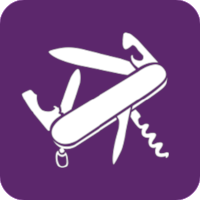 Versatile
Our Fasting tea works with all styles of fasting and with virtually any diet. Whether you're practicing, Time Restricted Eating, Alternate Day Fasting, Continuous Fasting, or just watching your weight, our fasting tea will help you manage hunger and stay energized while you achieve you fitness goals.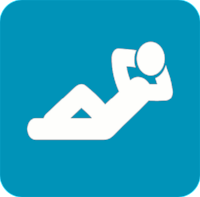 Convenient
We've made sticking to your fasting regimen as simple as possible. No messy meal replacement shakes or smoothies. Nothing to prepare or cook. Just add water, hot or cold, and your delicious all-natural herbal tea is ready to drink.
Perfect for sticking to your fasting planon the go, at work or when traveling.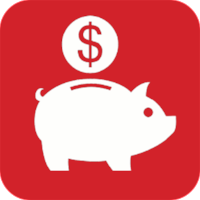 Saves Money
Our fasting tea can be consumed in place of meal when fastig and costs less than $2.20 per serving . Compare that to the cost of preparing a typical meal at home or eating out and you looking at savings of $100's per month.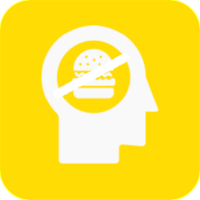 Helps Control Hunger
For most newcomers to fasting, hunger is the most difficult challenge and the most often cited reason for giving up. But hunger is not just a newby probalem. Even experienced fasters complain of occasioanl hunger.

Our fasting tea contains natural appetite suppressants that gently and naturally help keep your hunger in check.
Boosts Energy
Our proprietary blend of 11 natural herbs is based on an ancient Taoist formula famed for improving your flow of "chi", you body's own natural energy. Improved chi immediatly increase in energy and vtality.
You'll feel alert and enrgetic throughout the day without caffeine or artifical stimulants of any kind.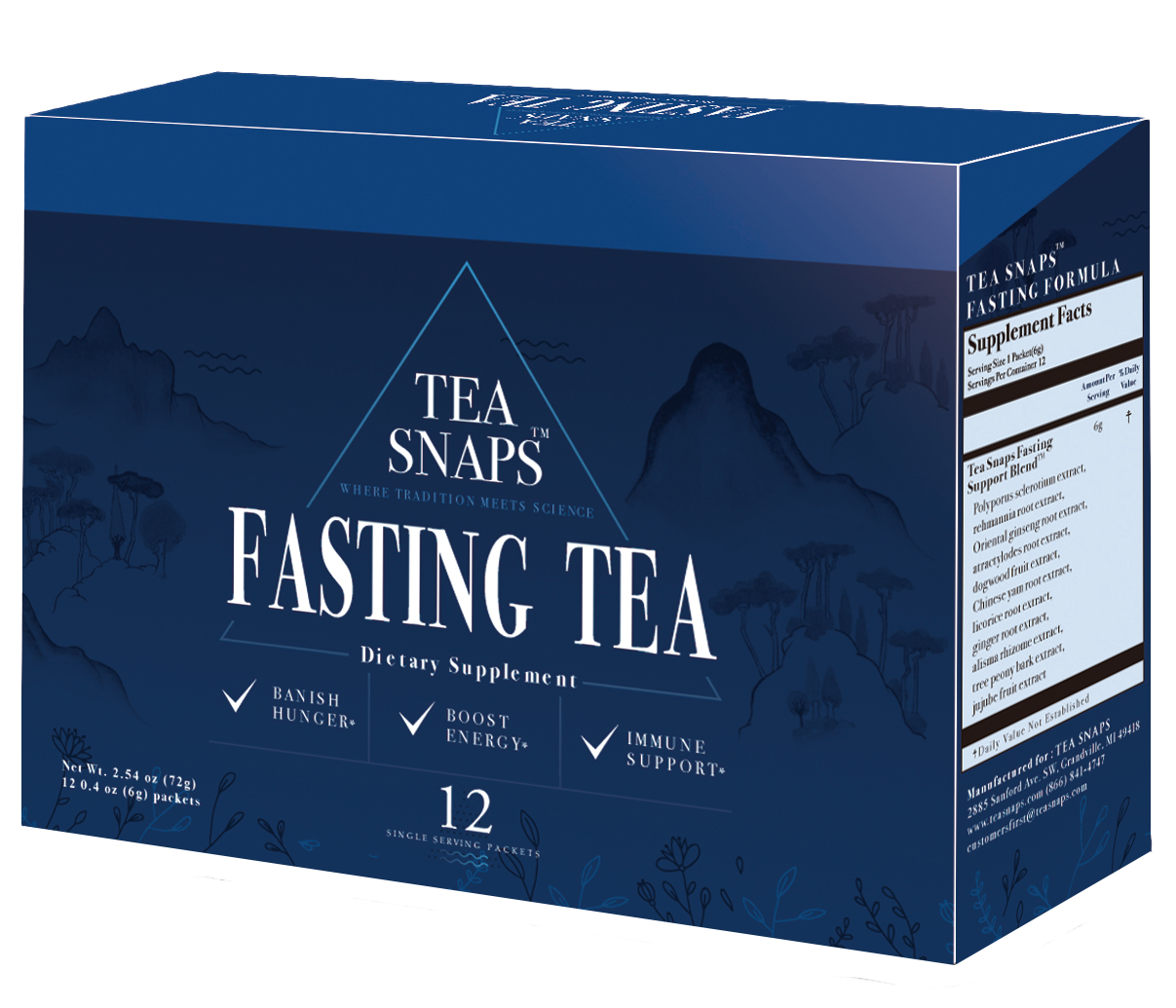 Pesticide & Chemical-Free
LISTEN TO WHAT OUR BETA-TESTERS HAD TO SAY
" I can tell you, an hour later now, I'm definitely feeling less hungry. I don't know if it just went away, but I don't feel that starving feeling now. In terms of energy, I'm kind of like when you drink a cup of coffee, not jittery or anything like that but I definitely feel a pick up just in my overall energy level. So super excited to keep on with this stuff!"

Anthony R. - Tucson, AZ
"I actually drank this first time around cold, and we'll see how the flavor changes ...

The flavor is very mild. It's not like you're doing those Chinese patent herbs, that bitter taste or anything. These is very very pleasant. While it did taste good cold, I prefer it hot."
 
Dr. JP Saleeby - Charleston, SC
"Before I was feeling and thinking, 'Ok, I'm not going to eat lunch today.'

But now [2 HOURS AFTER DRINKING THE TEA] other than just having to update you guys, I haven't thought about it at all. I feel good. I feel alert. I was very focused on what I was working on. I'm definitely going to try this!"

 
Mike S - Tucson, AZ
TRY OUR FASTING TEA COMPLETELY RISK FREE
with our 100% Money Back Peace of Mind Guarantee
---
Don't forget, your Fasting Tea is backed by our:
OUR PEACE OF MIND GUARANTEE
If you don't find that our fasting tea helps curb your appetite and maintain healthy energy while intermittently fasting, just let us know and we'll refund your purchase in full and, no hassles with returns. You keep the tea.
(Guarantee valid for 60 days from purchase.)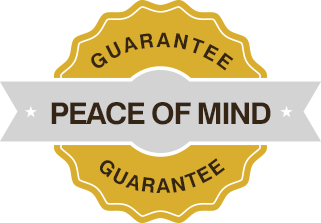 One Box Trial
(12 Packets)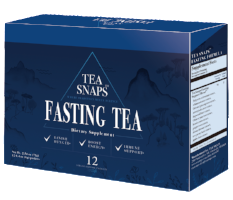 Your Introductory Price
$34.95
Plus Shipping
BUY NOW
One Time Purchase
Subscription Price
$27.00
Per Month Plus Shipping
SUBSCRIBE & SAVE
You Save $7.00
Modify or Cancel At Any Time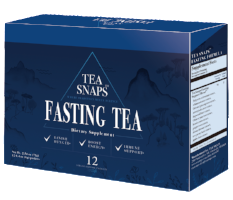 Your Introductory Price
$62.95
Plus Shipping
BUY NOW
One Time Purchase
Subscription Price
$49.95
Per Month Plus Shipping
SUBSCRIBE & SAVE
You Save $13.00
Modify or Cancel At Any Time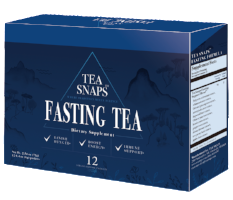 Your Introductory Price
$119.95
Includes FREE Shipping
BUY NOW
One Time Purchase
Subscription Price
$99
Per Month & FREE Shipping
SUBSCRIBE & SAVE
You Save $20.95
Modify or Cancel At Any Time
FREQUENTLY ASKED QUESTIONS
Why should I do Intermittent Fasting?
Intermittent fasting has been the subject of exhaustive research for well over 50 years. the scientific evidence is overwhelming that almost everyone should practice intermittent. the most obvious benefit is,of course, helping to maintain a healthy weight, the benefits go so much further than that.

Research links intermittetn fasting with increased longevity and lower incidence of almost ALL age- associated chronic conditions such as high blood pressure, diabetes, arthtritis ad more.

Watch our video on the benfits of Intermittetn fasting below.
Where is your fasting tea made?
We produce our fasting tea in partnership with one of the most respected herbal specialty manufacturers in Taiwan. Their GMPP Certified facility is registered with the USA FDA and certified as "Pharmateutical Grade (PICS) by the Australian Government.
Does this fasting tea have caffeine?
Our Fasting Tea is naturally 100% caffeine-free and contain no other stimulants of any kind. The energy boost you feel is the result of inproved flow of "chi" your body's internal energy. This is a much healthier way to increase your energy.
Is your fasting tea organic?
Our production facility is USDA Organic certified. However, some of the herbs in this blend are rare herbs grown on small farms that are not yet USDA organic certified. Becuase of this, we are not allowed to say "USDA Organic" on our packaging. All of our herbs are tested for chemicals and artifical fertilizers when they arrive at our factory. Pos production, we do a thorough spectographic analysis to again ensure that the resulting tea both conforms to the original Taoist formula and is free of any unwanted chemcial contaminants.

Our tea is Pharmaceutical Grade, which most consider a higher standard than USDA Organic.  
Does you tea contain any artificial flavors or sweeteners?
Our fasting is completely natural and does not contain any sugar or artificial sweeteners of any kind. You may taste a mild natural sweetness. This comes from the red dates and astragalus root.
Is this tea exclusively for fasting or will it help with a regular wieght loss diet?
We're big fans of intermittent fasting for weight loss. But, if you prefer a traditional calorie restricted weight loss regimen, our fasting tea will work great with that as well.
is this tea OK to drink of I'm on a (ketogenic, low-carb, Atkins etc.) Diet?
Our fasting tea is made 100% from extracts of all-natural herbs. It is safe and effective with all popular diets that we've studied.
Is this fasting tea safe for everyone?
Our fasting tea is safe for almost everyone. Out of an abundance of caution, we don't recommend it for women who are pregnant or expect to become pregnant, breastfeeding mothers or small children.
People with high blood pressure should use caution. Some of the herbs in this formula may elevate blood pressure in some people.
If in doubt, always consult with your doctor before trying our tea or commencing intermittent fasting.
 
Are there any other health benefits to this tea?
Yes! Alost all of the herbs in this formula are revered health tonic herbs form Traditional Chinese Medicine and have tremendous health benefits as stand-alone addtions to your supplements regimen.
If I get hungry or tired can i drink more than 3 times per day?
Sure! You can safely drink this tea up to 6 times per day. As noted above, if you have high blood pressure, keep an eye on your blood pressure. If you find your blood pressure goes up with the tea, then reduce consumption.
LEARN MORE ABOUT INTERMITTENT FASTING
A Modern Epidemic - How your diet and lifestyle are slowing killing you
Fasting to Wellness - The Overwhelming Case for Intermittent Fasting
Succeeding At Intermittent Fasting - Strategies and Protocols
Fasting For Weight Loss - Why Intermittetn Fasting Beats Dieting For Healthy Weight Loss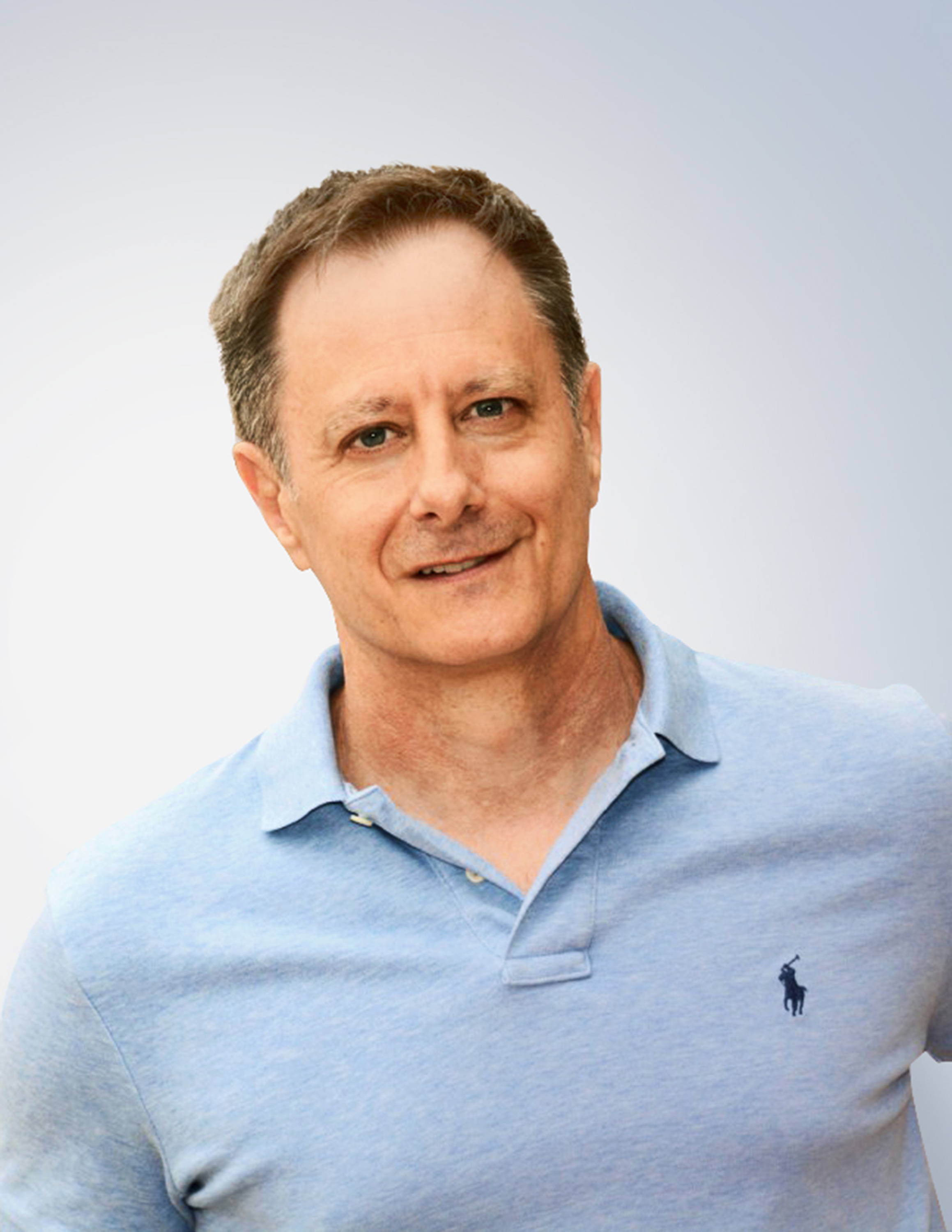 My wife and I had our first child when I was already in my 50's. So, I have strong personal reasons to stay healthy as long as possible, I need to be there for my kids.

Intermittent fasting is a vital part of my longevity plan. But, like almost everyone, I sometimes struggled with hunger and fatigue.
I found the answer in the Taoist herbal tradition. Unfortunately, I'd spend hours preparing the exotic ingredients (and stinking up the house), consume it all in a week and start all over. I just couldn't keep that up.
I partnered with one of the top herbal pharmaceutical companies in the world, and together we reinvented the traditional formula as an instant powder.
The Immortalitea Fasting Tea was born.
I hope my fasting tea helps you as much as it has me!
Ralph Kenney
---
The information provided on our site is for informational purposes only and is not intended as medical advice nor to replace medical advice from your physician.
* Our products have not been evaluated by the United States Food and Drug Administration and are not approved to diagnose, treat, cure or prevent disease.